We help our clients make smarter decisions
Based on better information, greater precision and increased collaboration using ultimate technologies that allow maximum efficiencies.
An American company that specializes in providing a wide spectrum of BIM services for existing facilities so architects, engineers, BIM developers, asset operators, asset managers, owners and stakeholders to excecute projects more efficiently by implementing BIM methodology while making better decisions, with greater transparency and predictability.
Knowledge process & information technology outsourcing for the AEC industry all in one.
Focus on the core business of your company.


Forget about having expensive software and hardware that needs updates and maintainance.


Obtain results and deliverables in a fraction of the time.
Take advantage of a whole team working simultaneously on your project.
Get higher levels and quality of products when made by an expert.


Free up your internal staff. Take on more projects.
Urban Planning
Land development, masterplans, transportation, roads, communications and distribution networks, accessibility.
Heritage
Historic buildings and town sites, important archaeological sites, and works of monumental sculpture or painting.
Architecture and construction
Housing projects, apartment homes, single-family residences, and condominiums offices, buildings.
Marine
Ships, vessels, barges, boats and other watercraft.
Commerce and retail
Retail chains, convenience stores, supermarkets, shopping outlets, food retail, restaurants, banking, automotive services and retail facilities.
Institutional facilities
Schools, universities, public spaces, parks, stadiums, sports and recreational facilities, airports, government offices, military bases.
Industrial and productive facilities
Storage buildings, production plants, telecom centers, data centers, warehouse/distribution buildings and other productive assets.
Healthcare Facilities
Hospitals, clinics, nursing homes, research laboratories, development laboratories, and test laboratories.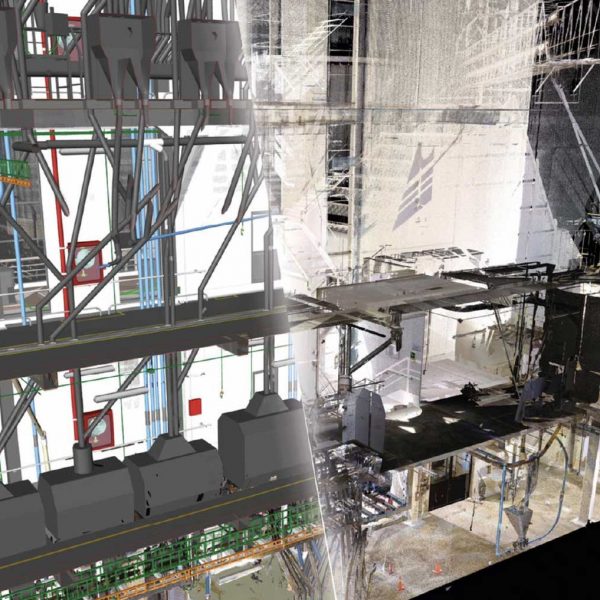 Obtain a 3D Model of your existing plant or productive asset to guarantee up to date status, layouts and equipments.
We offer highly accurate and fast volumetric surveys utilising laser scanning technology.
Analyze the status of a mass or infrastructure based on deformation surveys and movement monitoring.
Translate an existing object into a 3D model that captures irregular or organically shaped geometries.
Obtain highly accurate floor plans, sections and elevations generated in a variety of formats and levels of detail, tailored to suit your specific requirements.